Percy Ransome has announced the formation of a new company, Long Reach High Reach (LRHR, LLC) to handle our customers' needs when they are looking for additional reach for that special application when using construction equipment attachments. A new line of long reach front ends, as well as 2-piece and 3-piece demolition front ends will be available for all excavators through LRHR, LLC in a timely fashion. In addition, the company will be stocking 8', 16' and 20' stick extensions for immediate shipment to customers when they are in the middle of a job and find they need a few extra feet of reach for unforeseen circumstances.
During his 50 years of experience in the construction industry, Mr. Ransome has built an outstanding reputation. Long Reach High Reach LRHR, LLC will promote the same standards of responsiveness, good value, and tremendous pricings for quality construction equipment attachment products, which Percy's other companies are known for providing. This unique new company will be dedicated to special applications for excavators that need the additional reach for job-specific applications. In addition, the access to new and used attachments from its sister company, Ransome Equipment Sales, will provide the world's largest selection of universal processors, shears, grapples and other attachments. This combined source is unsurpassed by any other supplier in the country.
Please call Percy Ransome today to see how he can help you with your special application and long reach high reach attachment needs. Our email is longreachhighreach@gmail.com and the phone/fax is 609-257-3706 / 609-257-3719.
LRHR was recently featured on the cover of Contractors Hotline. The cover appears below.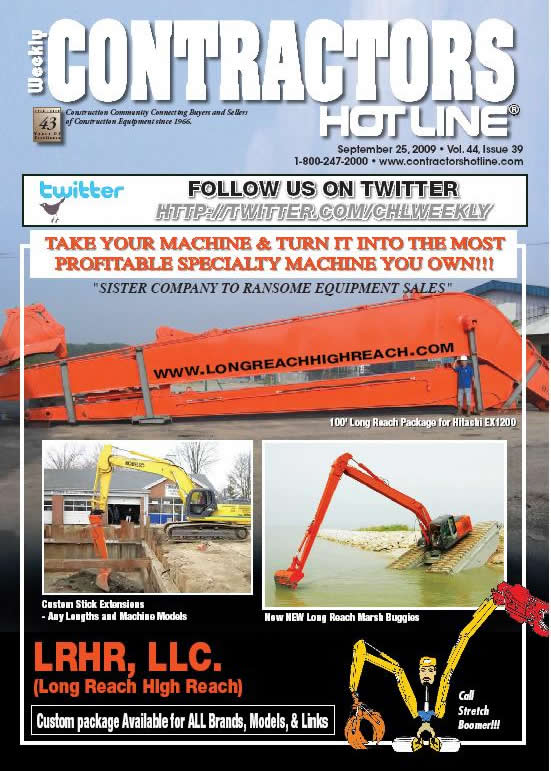 Read about our Long Reach High Reach Equipment