Welcome

About Us

Long Reach

High Reach

Stick
Extension

Telescopic
Booms / Sticks

Demolition
Front End

Marsh Buggies /
Amphibious
Excavators

Marsh Buggies
For Sale/Rentals

- Used -
Booms & Sticks
Long Fronts
Long & High Reach

Additional Stick
Extension

Material Handler
F/E & Machines

Custom Modified
Booms / Sticks
and Repairs

Standard - Cores
Booms / Sticks

Marine Equipment

Elevated Cab

About
our Factory

Clamshells &
Special
Attachments

Contact Info

Directions



Amphibious Excavators

New from Long Reach High Reach (LRHR) is the Amphibious Excavator specifically designed to maneuver and go through swampy areas with soft underfoot terrain where traditional excavators cannot go. This excavator can perform dredging while staying afloat in shallow water.

The amphibious excavator is extremely productive in dredging, erosion control and erosion prevention. It also provides efficiency in waterway, river and pond shoreline construction and can be used for maintenance and clearing of rivers, lakes and all other water projects.

The track chain of this vehicle is a three rail system. Shoes and cleats are supported by the track chain which provides a unifying pulling force with superior weight-to-drive ratio across each track shoe and cleat.

A manual expansion system allows the pontoons to move in and out by one-foot on each side, thus increasing and reducing the overall footprint of the unit. Highly maneuverable, the system is made of high-grade structural tensile plate steel with some steel components made with 100,000 psi steel.

Uniquely designed for easy break down and re-assembly in a matter of hours, the Amphib MB and 20-ton excavator top can be shipped economically in three containers for contractors doing jobs in remote and distant areas.

Our amphibious excavator makes difficult soft terrain and swamp dredgings a thing of the past. Our specially developed amphibious machine goes where no standard excavator ever could. If you are in need of our Amphib MB and 20-ton excavator top feel free to contact us at 609-257-3706 for details and answers to any questions you may have.
click here for Additional Info / Videos for Marsh Buggies

click here for Marsh Buggies for Sale and Rent
For more information or any questions on this unit,
Percy Ransome can be contacted at the following:

Cell: 215-350-1165
Email: percy.res@gmail.com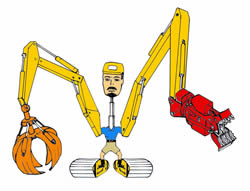 Call Stretch Boomer
LRHR, LLC
106 Ark Road · Lumberton · NJ · 08048
Phone: 609-257-3706
Fax: 609-257-3719
E-mail:&nbsp&nbsplongreachhighreach@gmail.com