Welcome

About Us

Long Reach

High Reach

Stick
Extension

Telescopic
Booms / Sticks

Demolition
Front End

Marsh Buggies /
Amphibious
Excavators

Marsh Buggies
For Sale/Rentals

- Used -
Booms & Sticks
Long Fronts
Long & High Reach

Additional Stick
Extension

Material Handler
F/E & Machines

Custom Modified
Booms / Sticks
and Repairs

Standard - Cores
Booms / Sticks

Marine Equipment

Elevated Cab

About
our Factory

Clamshells &
Special
Attachments

Contact Info

Directions



Small Marsh Buggy
Performs all waterway maintenance and recovery operations.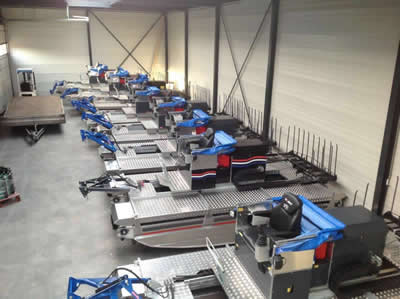 (Click on all photos to enlarge)
The Small Marsh Buggy is an amphibious machine that has many advantages. The basic machine can be equipped with a complete set of tools.

The smart connector on the lift arm makes it easy to change the different tools, thus making the marsh buggy function as follows:
Harvester - cutter attached to the front makes periodic maintenance easy

Collector - rake used for gathering and transporting cut water plants

Excavator - can be used for cleaning lakes and canals, digging ditches, cable laying, etc.

Dredger - pump used for pumping sediments and other floating debris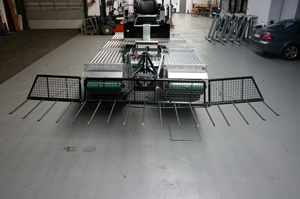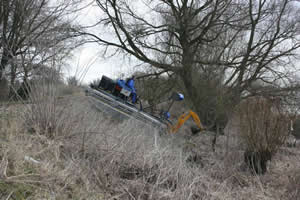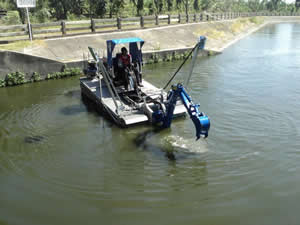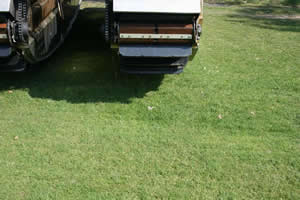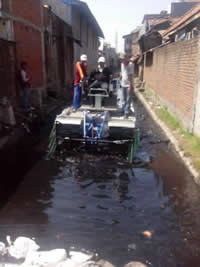 The weight distribution of the machine makes it possible to carry various weights on land and in water. No additional machines are required for loading or unloading the unit into the water. The Small Marsh Buggy drives up and down the trailer that can be pulled by a normal car.

Due to the great maneuverability, this marsh buggy turns easily around its own axle in water and is ideal for narrow areas. The unit can be operated by one person. Advantages include lower operating costs, less damage to surroundings, and little or no surface damage caused by the caterpillar tracks.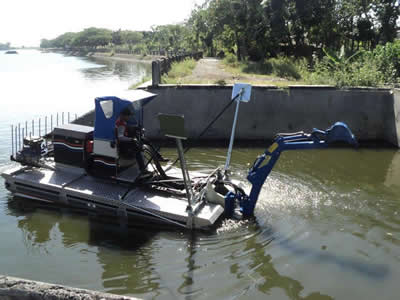 Technical information includes the following:
Motor - Yanmar 3 cylinder diesel engine 29.1 hp / 3000 rpm, environmental class Final TIER 4 / EPA approved, built-in stop function if engine overheats or oil pressure is too low

Dashboard - motor temperature, control lights, hydraulic oil temperature, hydraulic pressure, and fuel gauge, and 3 switches for pumps, lights and hydraulics (on/off)

Driver seat - ergonomically luxury designed, adjustable driver seat and height adjustable steering

Joystick - single joystick or double joystick depending on model type

Flow divider - adjustable flow 0-38 l/min (0 – 10 gallon/min)

Electrical system - 12 V, 40 A generator, 45 Ah battery

Diesel tank - 33 liters (7.9 gallon) engine runs 3 liter per hour

Hydraulic system - big hydraulic tank 70 liters (18.5 gallon). In combination of the hydraulic combination screening filter (flow and return) - higher performance of the hydraulic pumps, energy saving and achieving a longer lifespan. Better cooling and settling of the hydraulic fluid.

Hydraulic oil - HDV 46 (standard hydraulic oil)

Cooling system - combined radiator for motor and hydraulic system, radiator air intake with filter (prevents dirt in radiator cells)

Driving speed - 0-80 m/min

Front lift - lifting power 250 kg, (550 pounds) QC bracket for fast exchange of tools

Driving engines - 2 x 160 CC Low leak for better performance

Weight distribution - done by a cylinder

Material - pontoons made of saltwater-resistant aluminum AlMg 3 - each pontoon with 2 air compartments, with built in bilge pumps. Steel structure Hot-dip galvanized and all colored parts are powder coated.

Caterpillar track (paddle track) - with water and oil resistant textile

Dimensions - length 4.70 m (15.4 ft) , width 2.08M (6.8 ft), transport height 2.10 m (6.8 ft)

Weight - 1,150 kg. (2579 pounds approx)

* * * * * * * * * * * * * * * * * * * * * * * * * * * * * * * * * * *
(Click on photos to enlarge)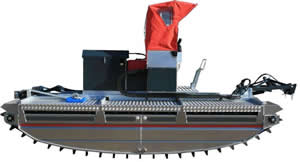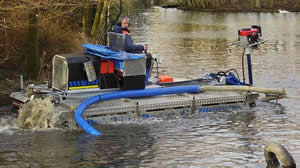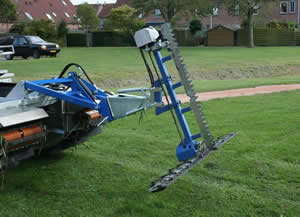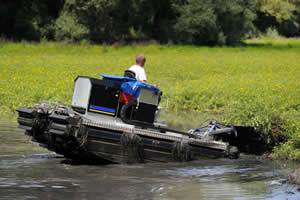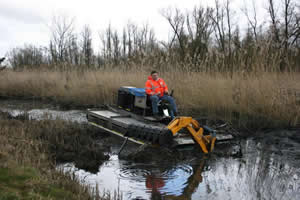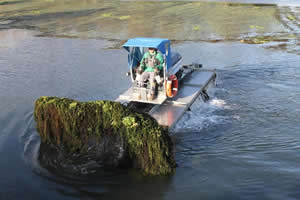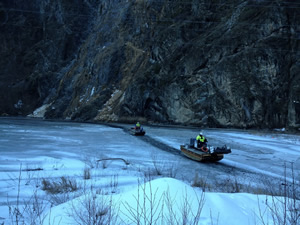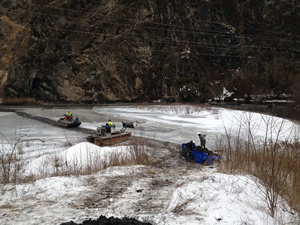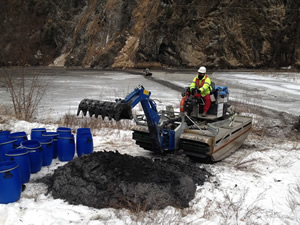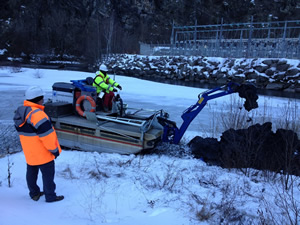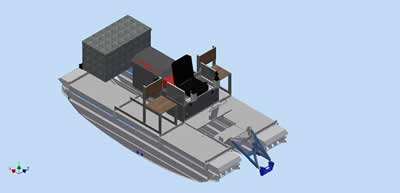 For more information or any questions on this product,
please contact Percy Ransome

Cell: 215-350-1165
Email: percy.res@gmail.com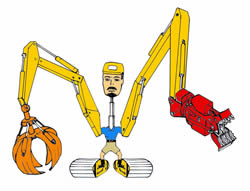 Call Stretch Boomer
LRHR, LLC
106 Ark Road · Lumberton · NJ · 08048
Phone: 609-257-3706
Fax: 609-257-3719
E-mail:&nbsp&nbsplongreachhighreach@gmail.com